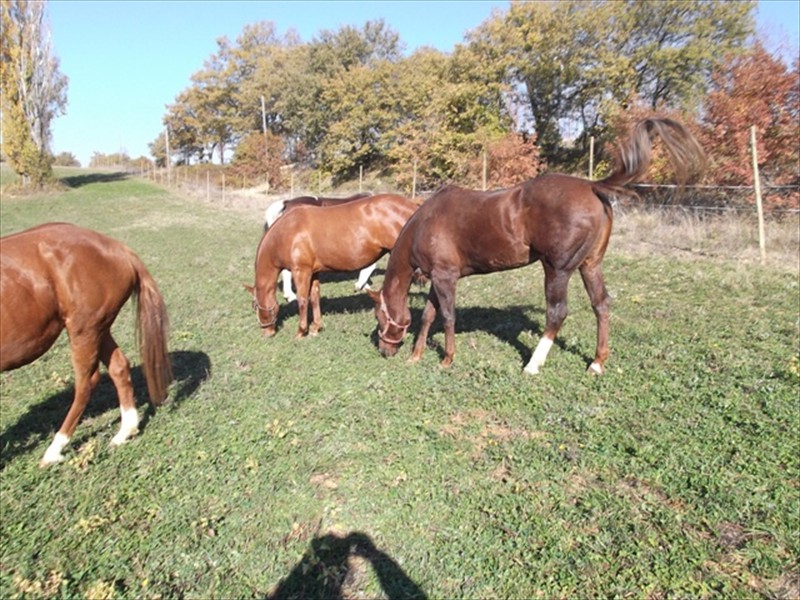 The farm of the Montenibbio Agricultural Company s.r.l. it is located in Umbria and precisely 19 km from Orvieto. The bulk of the property is located at the pass of a hill about 600 meters above sea level, which dominates the plain of Orvieto with a breathtaking view. The land, about 25 hectares, is made up mostly of woods, oaks and holm oaks mostly, while the other half is made up of agricultural land, used as pasture, with the exception of one hectare, on which there are 300 olive trees that produce several hundred liters of excellent oil. A few years, oil production exceeded a thousand liters.
The following properties are present:
Main farmhouse , consisting of 6 double bedrooms, 5 bathrooms, a 140 m² living room with a huge fireplace, kitchen with pantry, entrance, large porch. The total square footage is about 500 square meters. The farmhouse built in 1901, was completely renovated in 2008 with remaking of the bathrooms and kitchen, remaking of the stone facades, remaking of the roof with insulation, remaking of all systems according to the law, installation of new fixtures and internal doors . Upon completion, the sewage system was redone, with all legal authorizations.
Casaletto . Small farmhouse used as accommodation for staff. On the first floor there are kitchen, 2 bedrooms, bathroom for a total of 70 square meters. On the ground floor there is a garage, an ancient and large oven, used to make bread beyond the general wood-burning boiler for heating the two farmhouses. On the opposite side of the building we have a delightful independent apartment, consisting of lounge with kitchenette and fireplace, double bedroom, bathroom and gazebo for outdoor dining, all for a total of 65 square meters.
There is also a Old stable , already used as a stable for cows and pigs. The old barn, quite run down, was demolished and rebuilt with a modern structure with anti-seismic characteristics and high thermal and acoustic insulation. The structure consists of 4 rooms of about 40 square meters each, which are currently divided and stacked in 3 stables and apartment for staff accommodation. The dominant idea of reconstruction is to transform the three stables into three independent villas
In 2008 a New stable was built for 10 horses as well as a room for saddles and another for infirmary and a labor room. A perfectly drained outdoor riding school was built.
In the same period, a swimming pool in reinforced concrete was built, measuring 7X12 meters with a height ranging from 70-80 cm to 2.50 m, covered with tiles white and light blue mosaic.
There is a Warehouse divided into 2 rooms, one for storage and processing of olives, the other for woodshed.
Finally, we have 2 underground rooms , not stacked: a garage and a cave formerly used as a room for processing and storing wine.
Finally, in 2007 a 20 kw photovoltaic system was installed with the first agreement (payment by ENEL of the energy produced at a price of 0.48 per kwh and reimbursement of the energy consumed up to a maximum of that produced).
In 2009 with the purchase of quality mares and a stallion quarter, champion of europe, still present on the farm, known all over the world, an a was started breeding of horses. The structures created, including the fields with electrified fences, still in operation, have allowed to host up to 30 cattle. On the farm there are 5 prefabricated wooden and aluminum boxes, another 10 are dismantled on the ground.
The cadastral plans will be sent to request.